Fiber is an essential component in everyone's daily diet. However, meeting the daily dietary fiber requirement has become more and more challenging, especially when our diet has become more imbalanced. This has led to an increasing prevalence of not getting enough dietary fiber.
Recommended Dietary Fiber Intake
The recommended daily intake set by US Food and Drug Administration (FDA) is 25 grams2, which is equal to:3,4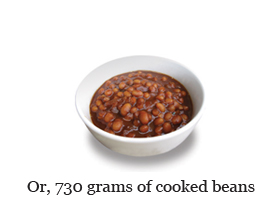 Enhance your favourite dish with SURBEX® Nutri-Fiber!
SURBEX® Nutri-Fiber is neutral taste and extremely palatable. It is suitable to be added in beverages, cooking or even baking to help you to meet your daily dietary fiber requirement (25g). Try it in your favourite coffee, tea, juice or cooking today!